The Man Pages to adding in the radio-database of AudiRadio.com 
These pages are under restyling!
---

---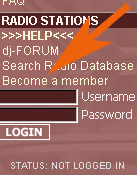 If this is the first time to our site and you haven't an account in audiradio, you must give it one! In the left menu, you can click on "Become A Member".
---

Now you can choose a username to login in our database...
---

If your username is free, you see a message like "The login name you choosed, is free for you!"
---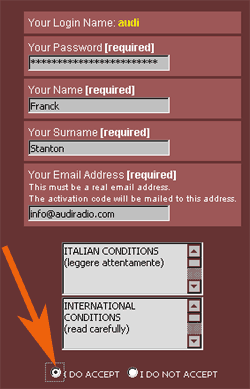 Now you must insert all other information about you: we only know your name, pastename and obviously you e-mail. We never use your data to SPAM or to send other commercial news. We collect your data only for inform you about audiradio.
---

After this message, we send you an email like this:
---
Hi (YOUR_NAME).
Welcome! Your confirmation is needed for the activation of your account.
To activate your account just click on the following link (or copy and past it in your browser):

https://www.audiradio.com/codeac...Email=info@audiradio.cccc&Code=xxxxx

Or you can point your browser to:
http://audiradio.com/codeact...
and use the following data:

Your Email: info@audiradio.cccc
Your Code: xxxxx

FYI, in the following the data to login to your audiradio.com account:

___________________________________________

Login = audiradio
Password = xxxyyy

___________________________________________


This is an example of the mail that you must receive with the simple instruction. Now you can click on the link that appear in e-mail or link to
https://www.audiradio.com/codeactivation.php
and insert your e-mail and the code that you see in your email!
---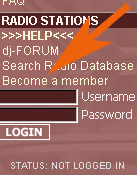 Now you can return at our main page. At the left menu you can insert the username and password to login in our radiodatabase. After click on the LOGIN button.
---

Now you are logged !!! (At the left menu you see STATUS : LOGGED). You can now insert all informations, click on ADD RADIO and follow the simple instructions! REMEMBER, at the work-end, TO LOGOUT!
---
That's all. Remember that in our database stay over 7.600 radiostations; everyone
with a lot of informations. Thanks to use our free services (No Pay,
No SPAM, No Spot, No Banner).

---
ALL FOR FREE BECAUSE IN-WEB-WE-TRUST!!!

---
Thank you.
P.R.K.M., master in audiradio.com
Gil the Big, audiradio-engineer
Riccardo,Carlo from Italy
Paolo Remonato,Peter Sunnydee, USA contact and developers
Neeltje van Rijswijd, Elizabeth Simon, assistants

---